The Best of PurchTips 2017
What Procurement Tips Did You Implement This Year?
PurchTips Edition #390
The end of the year is the perfect time to review what improvements you made in the past 12 months and the changes you want to make in the new year. PurchTips is designed to provide you with practical procurement tips that help you make a difference.  If you didn't implement all of our procurement tips in 2017, here are links to our top six editions of PurchTips from the past year to help you plan for 2018:
101 Things Procurement Professionals Can Negotiate (requires survey completion) – https://tinyurl.com/y9bn2dmn
Procurement Leader vs. Purchasing Manager – https://tinyurl.com/y776zbf7
Seasonal Commodities: Spring Has Sprung – https://tinyurl.com/yb5p6j8t
How To Bargain When You're Clueless – https://tinyurl.com/y8chcnt2
How Strategic Is Your Procurement Thinking? – https://tinyurl.com/y925h97m
Procurement Challenges In A Hot Economy – https://tinyurl.com/ybr3ewvh
The entire NLPA team would like to wish you a Happy New Year! We look forward to continuing to help you prove your procurement value in 2018! Please contact us if we can provide the training, certification, or other educational resources to help you succeed.
Struggling To Prove Your Procurement Value?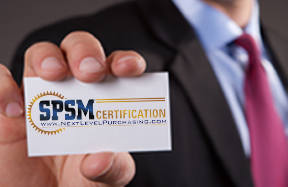 Are you tired of not getting the respect, recognition, and rewards you deserve from your procurement work? These things don't come by default. To earn them, you have to prove your value.
Earning your SPSM® Certification is the action to take if you want to bring the most modern procurement practices into your organization and position yourself as a true procurement expert. Download the SPSM® Certification Guide today to learn how to get started on your journey to proving your procurement value!

Learn 101 Things Procurement Professionals Can Negotiate!
Outsiders may think that corporate purchasing types negotiate one thing: price. But seasoned procurement professionals know differently.
In reality, modern procurement professionals like you may negotiate dozens of terms for a single deal. Sometimes, with so many possible terms to negotiate, it can be easy to forget to negotiate a few important ones. The new NLPA whitepaper, "101 Things Procurement Professionals Can Negotiate," can help you ensure that you explore all avenues of value creation when you negotiate with suppliers.
Take our survey to get your free copy of this whitepaper!


Want to get more procurement articles by email?
Members of the NLPA get great articles just like this by email every month. As a member, you will also get access to:
The latest Purchasing & Supply Management Salaries Report
Leading-Edge Supply Management™ magazine
Live webinars
Access of Purchasing Community
Access of NLPA BLogs
Access of Library (Webinar Replays, Procurement Templates & More)
Access to All 20 Express Courses worth $380.00
And more!
Sign up today and enjoy access all of the benefits that come with the NLPA Premium membership.
Copyright 2017. This article is the property of the Next Level Purchasing Association and may not be copied or republished in any form without the express written consent of the Next Level Purchasing Association. Click here to request republishing permission.
By Charles Dominick, SPSM, SPSM2, SPSM3
Popular Courses in Procurement & Supply Chain Management