Supply Chain Technology: What's Next?
PurchTips edition #107
By Charles Dominick, SPSM, SPSM2, SPSM3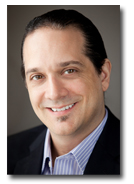 Are Major Technology Breakthroughs Looming?
In the late 90's, the field of supply chain technology exploded with new innovations such as eProcurement, reverse auctions, and more. The bursting of the dot-com bubble slowed the pace of innovation but, in 2006, we are seeing the return of innovative technology in the supply chain field as well as the Internet in general.

Today's PurchTips explores three emerging supply chain technology innovations: software delivery, community intelligence, and buyer-supplier collaboration.
Software Delivery: You can't shop the supply chain technology market without noticing the buzzword "On Demand." "On Demand is the delivery of software functionality over the Internet from a single application instance that's shared across all clients," explains Tim Minahan, Senior Vice President of Procuri, a supply chain solutions provider. "On Demand solutions require only a Web browser for access," eliminating hardware and software installation and maintenance, reducing costs, and speeding implementation.
Community Intelligence: Today's supply chain technology providers are "oriented to create a virtual community that's constantly transacting and collaborating and exchanging information," says Minahan. Community Intelligence includes inter-company information about supplier capabilities and performance, benchmarking data, and best practices that are accessible to the "Community" of users of a supply chain system. Some speculate that supply chain systems will someday feature Community-wide access to peer-input supplier ratings, not unlike a corporate purchasing version of eBay's seller feedback functionality.
Buyer-Supplier Collaboration: A casualty of the dot-com bust was the buzzword "C-Commerce" for Collaborative Commerce – a vision of the future that buyers and suppliers would collaborate seamlessly online. With collaborative tools like wikis now populating other portions of today's cyberspace, the buyer-supplier collaboration envisioned earlier is likely ready for prime time. Minahan cites three particular examples of technology-facilitated collaboration:
Both buyers and sellers will be able to expose and share their excess inventory across the Community.
Community members will engage in collaborative supply chain planning and logistics route sharing.
Buyers will grant suppliers access to buy from their contracts where pricing or availability is more favorable, thereby reducing total supply chain costs.
Do You Want a More Rewarding Procurement Career?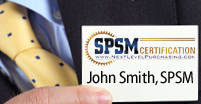 Are you tired of not getting enough opportunities, respect, and money out of your procurement career? Well, guess what? Nothing will change unless you take action towards becoming a world-class procurement professional.
Earning your SPSM® Certification is the action to take if you want to bring the most modern procurement practices into your organization and achieve your career potential. Download the SPSM® Certification Guide today to learn how to get started on your journey to a more rewarding procurement career!
Need Better Performance From Your Procurement Team?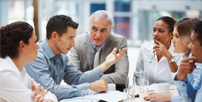 Are you a procurement leader whose team isn't achieving the results you know are possible? Maybe it's not enough cost savings. Or frustrating performance from the supply base. Or dissatisfied internal customers.
You need a performance improvement plan that's easy to implement and quick to produce results. The NLPA can help.
Download our whitepaper "The Procurement Leader's Guide To A More Successful Team." You'll learn the 7 steps for transforming your staff into a results-producing, world-class procurement team.
Are You Getting The Most Out of Your NLPA Membership?
Members of the NLPA get more than just articles like this by email. As a member, you also get access to:
The Procurement Training & Certification Starter Kit
The latest Purchasing & Supply Management Salaries Report
Leading-Edge Supply Management™ magazine
Members-only webinars 10x per year
And more!
If you haven't been taking advantage of these benefits, why not log in and start now?
Copyright 2006. This article is the property of Next Level Purchasing and may not be copied or republished in any form without the express written consent of Next Level Purchasing.
Click here to request republishing permission.