Procurement & World-Class Quality, Part II
PurchTips edition #66
What Can You Do To Achieve Quality Excellence For Your Organization?
This resource features the conclusion of the interview between Charles Dominick, President of Next Level Purchasing, and Eddy Guarascio, Manager of Global Procurement of MEDRAD. If you missed the first part of this interview, you can check it out at http://www.NextLevelPurchasing.com/resources/20041228.pdf
CD:
What tough decisions did you make along the way?
EG:
There are always going to be a few suppliers that do not understand this approach to quality or maybe they're just not prepared or capable of performing at those high levels. There's only been a few of those - we've mutually agreed to part ways. But the vast majority of our suppliers embrace this challenge and have incorporated MEDRAD's process to drive their overall organizational gains. They know that if they do the things that we require, they will be a better supplier to their average customers. So the decisions haven't been that tough along the way. The process sort of takes care of itself.
CD:
Achieving the quality excellence necessary to win the Baldridge Award requires a senior management vision that is bought into by every part of the organization. How did senior management get procurement on board with its vision?
EG:
It really starts with two things that are real prevalent here at MEDRAD. One is why our company exists. Employees can recite this - it comes down to three reasons: to improve the quality of healthcare, to ensure continued growth and profit, to provide an enjoyable and rewarding place to work. It's real clear in that philosophy what we're trying to do.
The other thing is our five corporate goals. These goals have been in place forever and they don't change. They're prevalent throughout the company. They're very simple: exceed the financials, grow the company, deliver improved quality and productivity, improve customer satisfaction, and improve employee growth and satisfaction. Everyone could recite these and I think that type of alignment is was what Malcolm Baldrige was so delighted to see.
All of that rolls up into a gain sharing formula. The gain sharing formula is shared with all the employees. They understand and they watch it throughout the year. And at the end of the year, we typically exceed these objectives and each employee in the company gets a significant check as a result.
CD:
What suggestions would you give to a buyer or purchasing leader who wants to make improvements in quality?
EG:
There are a couple of things that we've learned along the way. The one is that they asked us to think like an examiner. When the Malcolm Baldrige examiners come in, they want to measure progress. They want to see what have you done last year, where has it gone, what have you done to improve it?
They also ask you to select critical improvements. The bandwidth on what you can do is limited.
There's always plenty of things to do. My advice is to select just a few - the few with the biggest bang for the buck - then measure the progress and work to improve those. That goes with simplifying and focusing on the highest value approach to improving quality.
Most buyers are overwhelmed because there are so many things that need to be done. Manage your expectations, take little bites at the critical few, and keep your eyes on the real prize - exceptional performance for your business. You'd be surprised if you take that approach and focus on one or two, track it, get some excitement built around it, get some people involved, you can make some real change.
CD:
How can our readers learn more about the products MEDRAD manufactures?
EG:
To learn more about MEDRAD, simply visit medrad.com or you can call 1-800-MEDRAD1.
There you have it - some great lessons from a proven performer in our field! Next Level Purchasing extends its most sincere thanks to Eddy Guarascio and MEDRAD for sharing some of the procurement techniques that have help propel MEDRAD to winning the Malcolm Baldrige National Quality Award.
Do You Want a More Rewarding Procurement Career?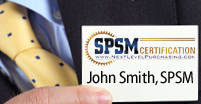 Are you tired of not getting enough opportunities, respect, and money out of your procurement career? Well, guess what? Nothing will change unless you take action towards becoming a world-class procurement professional.
Earning your SPSM® Certification is the action to take if you want to bring the most modern procurement practices into your organization and achieve your career potential. Download the SPSM® Certification Guide today to learn how to get started on your journey to a more rewarding procurement career!
Need Better Performance From Your Procurement Team?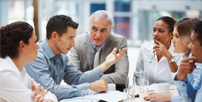 Are you a procurement leader whose team isn't achieving the results you know are possible? Maybe it's not enough cost savings. Or frustrating performance from the supply base. Or dissatisfied internal customers.
You need a performance improvement plan that's easy to implement and quick to produce results. The NLPA can help.
Download our whitepaper "The Procurement Leader's Guide To A More Successful Team." You'll learn the 7 steps for transforming your staff into a results-producing, world-class procurement team.
Are You Getting The Most Out of Your NLPA Membership?
Members of the NLPA get more than just articles like this by email. As a member, you also get access to:
The Procurement Training & Certification Starter Kit
The latest Purchasing & Supply Management Salaries Report
Leading-Edge Supply Management™ magazine
Members-only webinars 10x per year
And more!
If you haven't been taking advantage of these benefits, why not log in and start now?
Copyright 2005. This article is the property of Next Level Purchasing and may not be copied or republished in any form without the express written consent of Next Level Purchasing.
Click here to request republishing permission.
By Charles Dominick, SPSM, SPSM2, SPSM3
Other Editions of PurchTips:
---