Supplier Insurance Best Practices, Part I
PurchTips edition #223
Should You Require Suppliers To Have Insurance?
Brian Foont, an attorney and the founder of The Foont Law Firm, LLC, cites two reasons to require suppliers to have insurance: (1) to obtain coverage that your organization might not have, and (2) to obtain coverage that your organization might have but would prefer not to have claims against because that would increase your organization's insurance costs.

To take advantage of these benefits, some organizations create a standard insurance clause applicable to all suppliers. But a one-size-fits-all approach isn't always best because of the different levels of risks associated with different types of purchased products and services. In addition, insurance requirements increase costs, sometimes unnecessarily.
"The one-size-fits-all [approach] can be very comfortable but it can also be very, very expensive," notes Foont. "Almost always, the cost of requiring your suppliers to carry insurance is going to be baked into their pricing" so "you might want to waive the requirement to have insurance in particular situations or reduce the amount that you would ordinarily require so that the cost does not exceed the benefit."
Once appropriate insurance requirements are determined for various situations and corresponding insurance clauses developed, some organizations require suppliers to submit insurance certificates to prove their coverage. Simply receiving a supplier's insurance certificate is not enough, though.
"Make sure those certificates of insurance are not only received but they're inspected to make sure they do provide the correct level of coverage," Foont suggests. He further states that "certificates have to be replaced as insurance is renewed" and the certificates should be "calendared to make sure that the updates for the renewals are actually provided."

So, if something went wrong and your supplier didn't have the required insurance, would your organization have to bear 100% of the risk? "Not having insurance does not mean that the supplier is not liable unless, of course, the contract says otherwise," says Foont. Some losses can be easily reimbursed by suppliers without involving insurance companies. However, if a supplier doesn't have insurance and is not able to absorb the loss, your organization may end up absorbing it, he says.
Do You Want a More Rewarding Procurement Career?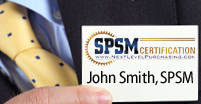 Are you tired of not getting enough opportunities, respect, and money out of your procurement career? Well, guess what? Nothing will change unless you take action towards becoming a world-class procurement professional.
Earning your SPSM® Certification is the action to take if you want to bring the most modern procurement practices into your organization and achieve your career potential. Download the SPSM® Certification Guide today to learn how to get started on your journey to a more rewarding procurement career!
Need Better Performance From Your Procurement Team?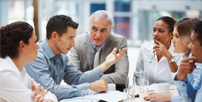 Are you a procurement leader whose team isn't achieving the results you know are possible? Maybe it's not enough cost savings. Or frustrating performance from the supply base. Or dissatisfied internal customers.
You need a performance improvement plan that's easy to implement and quick to produce results. The NLPA can help.
Download our whitepaper "The Procurement Leader's Guide To A More Successful Team." You'll learn the 7 steps for transforming your staff into a results-producing, world-class procurement team.
Are You Getting The Most Out of Your NLPA Membership?
Members of the NLPA get more than just articles like this by email. As a member, you also get access to:
The Procurement Training & Certification Starter Kit
The latest Purchasing & Supply Management Salaries Report
Leading-Edge Supply Management™ magazine
Members-only webinars 10x per year
And more!
If you haven't been taking advantage of these benefits, why not log in and start now?
Copyright 2011. This article is the property of Next Level Purchasing and may not be copied or republished in any form without the express written consent of Next Level Purchasing.
Click here to request republishing permission.
By Charles Dominick, SPSM, SPSM2, SPSM3
Other Editions of PurchTips:
---