Supplier Management: Make It Strategic
PurchTips edition #229
Is Your Supplier Management Strategic Or Not?
If you are considering implementing a supplier management process at your organization, you may wonder where to start and what metrics to choose. It's critical to begin strategically because early decisions are the foundation for all future supplier management work.

While emulating another organization's existing supplier scorecard may seem like wonderful shortcut, a more strategic starting point for developing supplier management metrics is learning the top-level strategy of your organization and basing all metrics on that strategy.
Your metrics "should relate to what your company is doing, not what some other company is doing," according to Sherry Gordon, the President of the Value Chain Group, a consulting firm that specializes in supplier management process design and development, and contributor to the Spend Matters blog. "While I think it is really helpful for companies to find out what other companies are measuring on their supplier scorecards... it's only useful up to a point because another company's metrics may not be relevant to you or even readily available in your company."
For example, if your organization's strategic priority is to increase customer satisfaction to support sales growth, it may not be smart to copy the scorecard of an organization that is more focused on cost reduction and stemming losses due to declining revenue. With two different strategic priorities, those organizations' supplier scorecards and metrics should look different.

Though there are many supplier management metrics that your organization can use, you need a method to home in on the metrics your organization should use. Gordon suggests three criteria for deciding on metrics.

"The first one is, is it relevant to your company? The second is... is it measurable?" she says. "And the third thing is, is it actionable?"

Gordon stresses quality of supplier management metrics over quantity. "It's better to have fewer measures that you can really do a good job on and that really mean something to your company rather than trying to fill up a scorecard" with metrics that do not meet the criteria.
Do You Want a More Rewarding Procurement Career?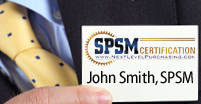 Are you tired of not getting enough opportunities, respect, and money out of your procurement career? Well, guess what? Nothing will change unless you take action towards becoming a world-class procurement professional.
Earning your SPSM® Certification is the action to take if you want to bring the most modern procurement practices into your organization and achieve your career potential. Download the SPSM® Certification Guide today to learn how to get started on your journey to a more rewarding procurement career!
Need Better Performance From Your Procurement Team?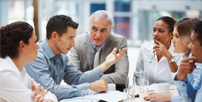 Are you a procurement leader whose team isn't achieving the results you know are possible? Maybe it's not enough cost savings. Or frustrating performance from the supply base. Or dissatisfied internal customers.
You need a performance improvement plan that's easy to implement and quick to produce results. The NLPA can help.
Download our whitepaper "The Procurement Leader's Guide To A More Successful Team." You'll learn the 7 steps for transforming your staff into a results-producing, world-class procurement team.
Are You Getting The Most Out of Your NLPA Membership?
Members of the NLPA get more than just articles like this by email. As a member, you also get access to:
The Procurement Training & Certification Starter Kit
The latest Purchasing & Supply Management Salaries Report
Leading-Edge Supply Management™ magazine
Members-only webinars 10x per year
And more!
If you haven't been taking advantage of these benefits, why not log in and start now?
Copyright 2011. This article is the property of Next Level Purchasing and may not be copied or republished in any form without the express written consent of Next Level Purchasing.
Click here to request republishing permission.
By Charles Dominick, SPSM, SPSM2, SPSM3
Other Editions of PurchTips:
---