The 25 New Rights of Purchasing, Part III
PurchTips edition #279
By Charles Dominick, SPSM, SPSM2, SPSM3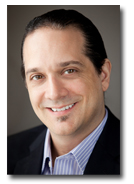 Ready To Go Beyond The Original "5 Rights?"
In editions #275 and 276, I introduced the first 10 of the "25 New Rights of Purchasing" to replace the traditional "5 Rights of Purchasing." Today's edition adds Rights 11 through 15. I'll continue this list every other edition of PurchTips until we get through all 25.
Right Environmental Responsibility - Today, organizations seek to either gain a competitive advantage or assuage consumer concerns by ensuring that their supply chains are environmentally-friendly. Therefore, you are expected to select suppliers and products that embrace recycling, avoid deforestation, show care for animal welfare, and utilize other methods of preserving elements of the environment.
Right Ethics - As a purchasing professional, you are expected to act ethically and should expect the same of your suppliers. Whether it be adhering to "no backdoor selling" policies or refusing to participate in international dealings that may be deemed "bribery" in their customers' countries, you must hold your suppliers to a high standard for respectability so that your organization doesn't get associated with unethical behavior.
Right Supplier Support - Your internal customers expect your suppliers to "be there" when they are needed. This may mean offering a 24x7 call center, providing on-site assistance, or having some other form of on-demand support. Having operational difficulties prolonged due to unavailable or inadequate supplier support can damage your credibility with internal customers.
Right Risk Management - Force Majeure events used to give suppliers excuses for failing to perform. Not anymore. Great suppliers are expected to have risk management strategies that enable them to recover quickly from such events. You should evaluate a prospective supplier's risk management strategy for all critical buys.
Right Financial Stability - Being negatively impacted by a supplier's seemingly sudden downsizing or insolvency is usually preventable if you have a decent knowledge of finance and you evaluate a supplier's financial statements before agreeing to an important deal.
Do You Want a More Rewarding Procurement Career?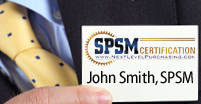 Are you tired of not getting enough opportunities, respect, and money out of your procurement career? Well, guess what? Nothing will change unless you take action towards becoming a world-class procurement professional.
Earning your SPSM® Certification is the action to take if you want to bring the most modern procurement practices into your organization and achieve your career potential. Download the SPSM® Certification Guide today to learn how to get started on your journey to a more rewarding procurement career!
Need Better Performance From Your Procurement Team?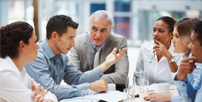 Are you a procurement leader whose team isn't achieving the results you know are possible? Maybe it's not enough cost savings. Or frustrating performance from the supply base. Or dissatisfied internal customers.
You need a performance improvement plan that's easy to implement and quick to produce results. The NLPA can help.
Download our whitepaper "The Procurement Leader's Guide To A More Successful Team." You'll learn the 7 steps for transforming your staff into a results-producing, world-class procurement team.
Are You Getting The Most Out of Your NLPA Membership?
Members of the NLPA get more than just articles like this by email. As a member, you also get access to:
The Procurement Training & Certification Starter Kit
The latest Purchasing & Supply Management Salaries Report
Leading-Edge Supply Management™ magazine
Members-only webinars 10x per year
And more!
If you haven't been taking advantage of these benefits, why not log in and start now?
Copyright 2013. This article is the property of Next Level Purchasing and may not be copied or republished in any form without the express written consent of Next Level Purchasing.
Click here to request republishing permission.