Critical Ingredients For A Good RFP
PurchTips edition #58
Does Your RFP Contain These Items?
A poorly written request for proposal (RFP) can result in consequences such as proposals that are too dissimilar to fairly compare, supplier performance that fails to meet expectations, or additional fees that surprise you later.
Therefore, it is important to ensure that your RFP does not omit any details. Consult the following list to confirm that your RFP's contain the necessary items.
Overview of the intended purchase
Specifications/statement of work
Indication of whether or not deviations from the technical specifications will be considered
Estimated quantity to be purchased
Terms and conditions
Selection criteria
Summary of supplier information required
Deadline for proposal submission
Address to which proposals should be delivered
Response form
Some organizations like to include a disclaimer so that they don't risk being legally bound by anything stated in the RFP. Your disclaimer may address these points:
The RFP is not an offer or a contract
Proposals become your organization's property
Bidders will not be compensated or reimbursed for costs incurred in preparing proposals
Your organization is not obligated to contract for any of the products/services described in the RFP
Your organization reserves the rights to:
Accept or reject any or all proposals
Waive any anomalies in proposals
Negotiate with any or all bidders
Modify or cancel the RFP
Finally, it is best practice to minimize the variables that you have to evaluate. Therefore, include certain requirements such as lead time or delivery/performance date, payment terms, shipping terms, and warranty.
RFP's are one of the most important documents that you compose. When writing RFP's, avoid leaving out any details that will cause consequences later. Good luck!
Do You Want a More Rewarding Procurement Career?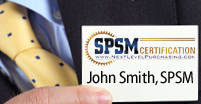 Are you tired of not getting enough opportunities, respect, and money out of your procurement career? Well, guess what? Nothing will change unless you take action towards becoming a world-class procurement professional.
Earning your SPSM® Certification is the action to take if you want to bring the most modern procurement practices into your organization and achieve your career potential. Download the SPSM® Certification Guide today to learn how to get started on your journey to a more rewarding procurement career!
Need Better Performance From Your Procurement Team?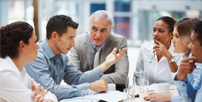 Are you a procurement leader whose team isn't achieving the results you know are possible? Maybe it's not enough cost savings. Or frustrating performance from the supply base. Or dissatisfied internal customers.
You need a performance improvement plan that's easy to implement and quick to produce results. The NLPA can help.
Download our whitepaper "The Procurement Leader's Guide To A More Successful Team." You'll learn the 7 steps for transforming your staff into a results-producing, world-class procurement team.
Are You Getting The Most Out of Your NLPA Membership?
Members of the NLPA get more than just articles like this by email. As a member, you also get access to:
The Procurement Training & Certification Starter Kit
The latest Purchasing & Supply Management Salaries Report
Leading-Edge Supply Management™ magazine
Members-only webinars 10x per year
And more!
If you haven't been taking advantage of these benefits, why not log in and start now?
Copyright 2004. This article is the property of Next Level Purchasing and may not be copied or republished in any form without the express written consent of Next Level Purchasing.
Click here to request republishing permission.
By Charles Dominick, SPSM, SPSM2, SPSM3
Other Editions of PurchTips:
---