The 25 New Rights of Purchasing, Part IV
PurchTips edition #281
By Charles Dominick, SPSM, SPSM2, SPSM3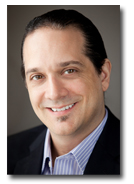 Are You Insisting On These "Purchasing Rights" Yet?
In editions #275, 277, and 279, I introduced the first 15 of the "25 New Rights of Purchasing" to replace the traditional "5 Rights of Purchasing." Today's edition adds Rights 16 through 20. I'll continue this list every other edition of PurchTips until we get through all 25.
Right Commitment to Continuous Improvement - The world constantly changes. In business, competition seems to get fiercer and fiercer every day. As such, organizations need to improve just to maintain the success they have today. For an organization to achieve maximum improvement, its suppliers must continually improve. Therefore, you need to seek out suppliers with a track record and culture of continuous improvement.
Right Technology - Technological developments make doing business faster, easier, and less expensive. If your organization is ahead of the pack in terms of technology, you need to find suppliers who can work with that technology for maximum efficiency. If your organization is a technological laggard, you can find suppliers who can help your organization catch up and remain competitive.
Right Contractual Terms - It's ideal for you if your suppliers simply accept your organization's standard contractual terms. Unfortunately, some suppliers will resist agreeing to certain terms as-is and changes to some of those terms - like indemnity, limit of liability, etc. - can increase the risk that your organization bears. Sometimes, one supplier's resistance to your contractual terms solely justifies selecting a different supplier.
Right Reputation - Whether they are involved in a fatal factory fire, bribery scandal, or other newsworthy controversies, suppliers with bad reputations negatively affect public perception of your organization. To protect your organization's brand, it is important to do business with suppliers who are thought of positively by the public.
Right Experience - Anyone can say that they can meet a buyer's requirements, but a history of doing so becomes more important when you purchase more expensive and/or critical goods or services.
Do You Want a More Rewarding Procurement Career?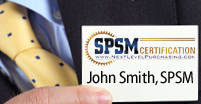 Are you tired of not getting enough opportunities, respect, and money out of your procurement career? Well, guess what? Nothing will change unless you take action towards becoming a world-class procurement professional.
Earning your SPSM® Certification is the action to take if you want to bring the most modern procurement practices into your organization and achieve your career potential. Download the SPSM® Certification Guide today to learn how to get started on your journey to a more rewarding procurement career!
Need Better Performance From Your Procurement Team?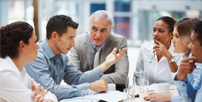 Are you a procurement leader whose team isn't achieving the results you know are possible? Maybe it's not enough cost savings. Or frustrating performance from the supply base. Or dissatisfied internal customers.
You need a performance improvement plan that's easy to implement and quick to produce results. The NLPA can help.
Download our whitepaper "The Procurement Leader's Guide To A More Successful Team." You'll learn the 7 steps for transforming your staff into a results-producing, world-class procurement team.
Are You Getting The Most Out of Your NLPA Membership?
Members of the NLPA get more than just articles like this by email. As a member, you also get access to:
The Procurement Training & Certification Starter Kit
The latest Purchasing & Supply Management Salaries Report
Leading-Edge Supply Management™ magazine
Members-only webinars 10x per year
And more!
If you haven't been taking advantage of these benefits, why not log in and start now?
Copyright 2013. This article is the property of Next Level Purchasing and may not be copied or republished in any form without the express written consent of Next Level Purchasing.
Click here to request republishing permission.