Use Negotiation Skills To Elevate Purchasing
PurchTips edition #224
By Charles Dominick, SPSM, SPSM2, SPSM3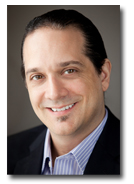 Are Your Purchasing Negotiation Skills Underutilized?
Many purchasing professionals find themselves in situations where their internal customers (e.g., Engineering) cut deals with suppliers and don't involve the purchasing department until the moment a purchase order needs to be created. This is a bad practice.

Many companies recognize the consequences of not having early purchasing involvement and have policies requiring the purchasing department to be given an opportunity to participate in all supplier conversations for purchases expected to exceed a certain value. If you want to convince your management to implement such a policy, start by touting your negotiation skills as follows:

As a purchasing professional, you are an experienced negotiator. You negotiate frequently, maybe daily.

Negotiation may not be part of your internal customers' job description. By deliberately keeping you out of a negotiation, your internal customer is failing to utilize a resource that can financially benefit the organization.

Suppliers' flexibility with their pricing is dependent on their perceived certainty of getting the deal. When a supplier "seals the deal" with an internal customer and the purchasing department is involved only at the end, the supplier is certain of getting the deal and will not bow to any pricing pressure that the purchasing department tries to apply.

Salespeople are trained - and many are great - at manipulating even the smartest professionals who have their guard down because they don't negotiate every day. These salespeople know what questions to ask that seem harmless but actually get the information that they need to entrench themselves in buying plans and maximize their margins at the expense of the buying organization.

By having a skilled purchasing professional present at all supplier meetings about major purchases, it can help the organization counter these tactics and prevent the supplier from getting that sense of certainty that results in high prices. But negotiation isn't the only skill that purchasing professionals bring to the table. In the next edition of PurchTips, you'll learn three more capabilities that justify early purchasing involvement.
Do You Want a More Rewarding Procurement Career?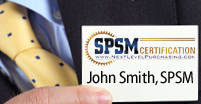 Are you tired of not getting enough opportunities, respect, and money out of your procurement career? Well, guess what? Nothing will change unless you take action towards becoming a world-class procurement professional.
Earning your SPSM® Certification is the action to take if you want to bring the most modern procurement practices into your organization and achieve your career potential. Download the SPSM® Certification Guide today to learn how to get started on your journey to a more rewarding procurement career!
Need Better Performance From Your Procurement Team?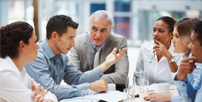 Are you a procurement leader whose team isn't achieving the results you know are possible? Maybe it's not enough cost savings. Or frustrating performance from the supply base. Or dissatisfied internal customers.
You need a performance improvement plan that's easy to implement and quick to produce results. The NLPA can help.
Download our whitepaper "The Procurement Leader's Guide To A More Successful Team." You'll learn the 7 steps for transforming your staff into a results-producing, world-class procurement team.
Are You Getting The Most Out of Your NLPA Membership?
Members of the NLPA get more than just articles like this by email. As a member, you also get access to:
The Procurement Training & Certification Starter Kit
The latest Purchasing & Supply Management Salaries Report
Leading-Edge Supply Management™ magazine
Members-only webinars 10x per year
And more!
If you haven't been taking advantage of these benefits, why not log in and start now?
Copyright 2011. This article is the property of Next Level Purchasing and may not be copied or republished in any form without the express written consent of Next Level Purchasing.
Click here to request republishing permission.