Email Guidelines For Purchasing Professonals
PurchTips edition #77
By Charles Dominick, SPSM, SPSM2, SPSM3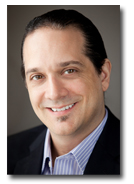 Are Your Emails Getting The Attention You Want?
Purchasing and supply management is one of the busiest professions. Therefore, you and I use the convenience of email to communicate with our superiors, internal customers, and suppliers.
This convenience often leads to sloppiness. Sloppy emails are frequently ignored or misunderstood.
Use these guidelines to optimize your emails.
Limit The Topic – If you have more than one topic to discuss with the recipient, send one email per topic. When topics are combined, the recipient is likely to withhold a reply until ALL matters can be addressed.
Write Short Paragraphs – Limit your paragraphs to two sentences in length for optimum readability. Four short paragraphs are better than one huge paragraph.
Write Short Sentences – Strive for an average of about nine to 14 words per sentence. If a sentence uses more than 20 words, try to split it into two separate sentences.
Use Lists – If you describe three or more points about a certain topic, use a bulleted list not a long sentence.
Draw Attention To Questions – If you ask a question, put it in a paragraph by itself. When asking multiple questions, number them and place each on its own line.
Have A Clear Call To Action – Tell the person exactly what to do. An example would be: "Please review this document and email your suggestions to me."
State Any Deadlines – If you need a response by a certain date, indicate the date by which you need it. When using a date, be sure to specify whether you want the response "on" or "no later than" that date.
Be Service Oriented – When replying to internal customers, thank them in your first sentence and thank them in your last sentence.
Proofread – Ensure compliance with these guidelines and look for spelling/grammar errors, omitted words, and lack of clarity.
Do You Want a More Rewarding Procurement Career?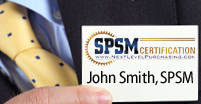 Are you tired of not getting enough opportunities, respect, and money out of your procurement career? Well, guess what? Nothing will change unless you take action towards becoming a world-class procurement professional.
Earning your SPSM® Certification is the action to take if you want to bring the most modern procurement practices into your organization and achieve your career potential. Download the SPSM® Certification Guide today to learn how to get started on your journey to a more rewarding procurement career!
Need Better Performance From Your Procurement Team?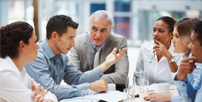 Are you a procurement leader whose team isn't achieving the results you know are possible? Maybe it's not enough cost savings. Or frustrating performance from the supply base. Or dissatisfied internal customers.
You need a performance improvement plan that's easy to implement and quick to produce results. The NLPA can help.
Download our whitepaper "The Procurement Leader's Guide To A More Successful Team." You'll learn the 7 steps for transforming your staff into a results-producing, world-class procurement team.
Are You Getting The Most Out of Your NLPA Membership?
Members of the NLPA get more than just articles like this by email. As a member, you also get access to:
The Procurement Training & Certification Starter Kit
The latest Purchasing & Supply Management Salaries Report
Leading-Edge Supply Management™ magazine
Members-only webinars 10x per year
And more!
If you haven't been taking advantage of these benefits, why not log in and start now?
Copyright 2005. This article is the property of Next Level Purchasing and may not be copied or republished in any form without the express written consent of Next Level Purchasing.
Click here to request republishing permission.