Charles' 2004 Purchasing Predictions
PurchTips edition #40
By Charles Dominick, SPSM, SPSM2, SPSM3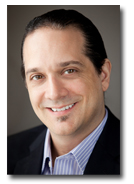 What Changes Will The New Year Bring?
Have you wondered: "What direction is the purchasing and supply management field going in the near future?" People ask me this question all the time. It's a new year, so it seems like a good time to peek into my crystal ball, have some fun, and share some of my best guesses. Don't mortgage your home to bet on these, though...

Prediction #1: Wireless handheld purchasing will become a hot topic. If you've shopped for a PDA lately, you've seen some amazing machines. These tiny devices can serve as organizers, computers, cameras, stereos, voice recorders, etc. They do everything. And they can be very helpful to folks, like construction project managers, who have to buy goods and services in an "on site" situation. Combined with eProcurement software, a wireless handheld will streamline the buying process while maintaining contract compliance in an area traditionally fraught with maverick buying.

Prediction #2: The reverse auction industry will be shaken up. Despite their ability to help purchasers improve their bottom lines, reverse auction providers have not been profitable during the growth phase of an industry that has now matured. Expect to see players exit the business world, be acquired, or reinvent themselves as providers of other services, such as consulting. The remaining providers will still have a strong value proposition and should achieve profitability if the economy continues to improve.

Prediction #3: Purchasing will play a role in a big acquisition or two. With economic recession over the past few years hindering companies' ability to grow their business, companies have recently pursued acquisitions for expansion. Boise Cascade acquired OfficeMax to expand into the retail office supplies market. FedEx agreed to purchase Kinko's, thus entering the retail document duplication market. These were acquisitions of customers. Expansion can also be achieved through acquisitions of suppliers. Such acquisitions can also control costs. While this prediction is the polar opposite of the current trend of outsourcing, it seems that every trend is eventually killed by a counter-trend. The potential for such acquisitions reinforces the notion that good supplier relationships are as important as ever.

Well, that's all I have room to predict. I'll check back with you at a later date to discuss the accuracy of my crystal ball. Have a great new year!

Charles Dominick
President, Next Level Purchasing, Inc.
Do You Want a More Rewarding Procurement Career?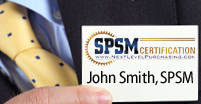 Are you tired of not getting enough opportunities, respect, and money out of your procurement career? Well, guess what? Nothing will change unless you take action towards becoming a world-class procurement professional.
Earning your SPSM® Certification is the action to take if you want to bring the most modern procurement practices into your organization and achieve your career potential. Download the SPSM® Certification Guide today to learn how to get started on your journey to a more rewarding procurement career!
Need Better Performance From Your Procurement Team?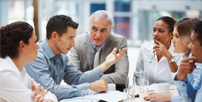 Are you a procurement leader whose team isn't achieving the results you know are possible? Maybe it's not enough cost savings. Or frustrating performance from the supply base. Or dissatisfied internal customers.
You need a performance improvement plan that's easy to implement and quick to produce results. The NLPA can help.
Download our whitepaper "The Procurement Leader's Guide To A More Successful Team." You'll learn the 7 steps for transforming your staff into a results-producing, world-class procurement team.
Are You Getting The Most Out of Your NLPA Membership?
Members of the NLPA get more than just articles like this by email. As a member, you also get access to:
The Procurement Training & Certification Starter Kit
The latest Purchasing & Supply Management Salaries Report
Leading-Edge Supply Management™ magazine
Members-only webinars 10x per year
And more!
If you haven't been taking advantage of these benefits, why not log in and start now?
Copyright 2004. This article is the property of Next Level Purchasing and may not be copied or republished in any form without the express written consent of Next Level Purchasing.
Click here to request republishing permission.