Purchasing Ethics: 7 Sensitive Situations
PurchTips edition #197
By Charles Dominick, SPSM, SPSM2, SPSM3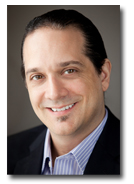 Do Your Internal Customers Consider You Ethical?
There are few things that cause purchasing professionals to worry more than the topic of ethics. And this is understandable.

Even when cross-functional teams are formed to ensure organizational buy-in of sourcing decisions, some internal customers end up unhappy with supplier selections. This unhappiness sometimes motivates the most bitter of them to - correctly or incorrectly - question the ethics of the purchasing department.

The following circumstances can serve as reasons why internal customers may make accusations that the purchasing department has behaved unethically:
A purchasing team member accepted a gift - perhaps even a low-value item like a pen - from a supplier.
A purchasing team member has a personal or financial relationship with a supplier or an employee of a supplier.
A purchasing team member owns a supplier's stock.
A purchasing team member mixes business and entertainment with a supplier, for example discussing business over a meal or a round of golf.
In a competitive bidding situation, the purchasing team provided certain information to one supplier that was not provided to other suppliers.
The purchasing team did not provide transparency for a supplier selection, including failing to internally share selection criteria, proposal details, and the rationale for the decision.
The supplier selection criteria used was different than the criteria noted in the RFP/tender.
Now, that is not to say that all of these circumstances are inherently unethical. However, it is important to understand how these circumstances look "through the eyes of the customer."

So, you should evaluate whether any of these circumstances occur in your organization. If they do, you need to either eliminate and prevent these circumstances or educate your internal customers as to how the circumstances can exist without ethical standards being violated.
Do You Want a More Rewarding Procurement Career?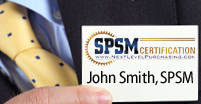 Are you tired of not getting enough opportunities, respect, and money out of your procurement career? Well, guess what? Nothing will change unless you take action towards becoming a world-class procurement professional.
Earning your SPSM® Certification is the action to take if you want to bring the most modern procurement practices into your organization and achieve your career potential. Download the SPSM® Certification Guide today to learn how to get started on your journey to a more rewarding procurement career!
Need Better Performance From Your Procurement Team?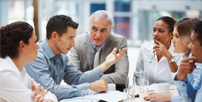 Are you a procurement leader whose team isn't achieving the results you know are possible? Maybe it's not enough cost savings. Or frustrating performance from the supply base. Or dissatisfied internal customers.
You need a performance improvement plan that's easy to implement and quick to produce results. The NLPA can help.
Download our whitepaper "The Procurement Leader's Guide To A More Successful Team." You'll learn the 7 steps for transforming your staff into a results-producing, world-class procurement team.
Are You Getting The Most Out of Your NLPA Membership?
Members of the NLPA get more than just articles like this by email. As a member, you also get access to:
The Procurement Training & Certification Starter Kit
The latest Purchasing & Supply Management Salaries Report
Leading-Edge Supply Management™ magazine
Members-only webinars 10x per year
And more!
If you haven't been taking advantage of these benefits, why not log in and start now?
Copyright 2010. This article is the property of Next Level Purchasing and may not be copied or republished in any form without the express written consent of Next Level Purchasing.
Click here to request republishing permission.