10 Signs of a Modern Purchasing Department
PurchTips edition #94
By Charles Dominick, SPSM, SPSM2, SPSM3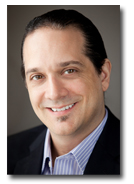 How Modern Is Your Purchasing Department?
The purchasing function has changed dramatically over the last several years. And it continues to change and evolve almost daily. This edition of PurchTips contains 10 characteristics of modern purchasing departments. Use it as a checklist.

If your department doesn't meet each criterion on this list, don't be discouraged. Instead, use this checklist as a set of goals to which you aspire. So, without further fanfare, here are 10 signs of a modern purchasing department...

The head of purchasing reports directly to the CEO of your company
Your department is responsible for procurement in "non-traditional" spend areas such as healthcare benefits, fleet management, facilities and construction, temporary labor, and travel
Purchasing is actively involved in senior management level, long-term strategic planning
The purchasing staff is responsible for manually placing only a small percentage of your organization's purchase orders
Logistics and inventory functions either fall under Purchasing on the organizational chart or are integrated into the work of purchasing staff
Maverick buying is a thing of the past
When dealing with large, frequently used suppliers, no paper is exchanged between the time that a need for a product or service is defined until the time that the supplier receives payment
No major sourcing process is conducted without the use of a cross-functional team
You are buying from global sources and measuring non-domestic spend as a percentage of total spend
Your department has social responsibility goals and measurements in place
Do You Want a More Rewarding Procurement Career?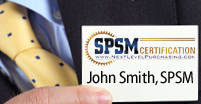 Are you tired of not getting enough opportunities, respect, and money out of your procurement career? Well, guess what? Nothing will change unless you take action towards becoming a world-class procurement professional.
Earning your SPSM® Certification is the action to take if you want to bring the most modern procurement practices into your organization and achieve your career potential. Download the SPSM® Certification Guide today to learn how to get started on your journey to a more rewarding procurement career!
Need Better Performance From Your Procurement Team?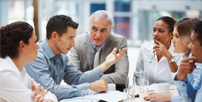 Are you a procurement leader whose team isn't achieving the results you know are possible? Maybe it's not enough cost savings. Or frustrating performance from the supply base. Or dissatisfied internal customers.
You need a performance improvement plan that's easy to implement and quick to produce results. The NLPA can help.
Download our whitepaper "The Procurement Leader's Guide To A More Successful Team." You'll learn the 7 steps for transforming your staff into a results-producing, world-class procurement team.
Are You Getting The Most Out of Your NLPA Membership?
Members of the NLPA get more than just articles like this by email. As a member, you also get access to:
The Procurement Training & Certification Starter Kit
The latest Purchasing & Supply Management Salaries Report
Leading-Edge Supply Management™ magazine
Members-only webinars 10x per year
And more!
If you haven't been taking advantage of these benefits, why not log in and start now?
Copyright 2006. This article is the property of Next Level Purchasing and may not be copied or republished in any form without the express written consent of Next Level Purchasing.
Click here to request republishing permission.