Procurement Strategy Do's & Don'ts, Part II
PurchTips edition #251
How Do You Get Procurement Strategies To Succeed?
In PurchTips edition #249, I shared five sets of "do's and don'ts" for implementing new procurement strategies. In this edition, I'll share three more sets.
DON'T think that policies are all you need for compliance. DO make compliance the easiest option for your internal customers. "If you go and look at what an employee does when they go home at night, they're on Facebook, they're on Google... they expect to use the same thing within their day-to-day job," observes Ravi Thakur, Vice President of Services & Support for Coupa, a leading provider of cloud spend management solutions. "If they're working on tools or systems that don't offer the same types of flexibility or usability, they're going to start avoiding using those tools" and may resort to easier processes that violate policies.
DON'T wait for savings opportunities to be revealed to you. DO leverage data to partner with other departments. Some procurement departments don't start searching for ways to achieve cost savings until a requisition arrives. That's too late for strategic procurement departments. "Look, you're in procurement... you're the quarterback of saving money and managing everything going through your supply chain," explains Thakur. "So what are you doing with that power? Are you going and working with your VP of R&D or your VP of Operations and looking at their costs and giving them recommendations?" Thakur goes on to suggest that you, as a procurement leader, should take the lead in working with all major business units because "you're the only one within the company that has visibility across all the spend, across what everyone's doing. So, leverage that!"
DON'T assume that lower prices alone will increase profits. DO work to ensure that savings are kept. Once you've negotiated deals and put low-cost contracts in place, "are you working with your CFO to make sure that you're not just reallocating that money to a different group, but really cutting it from the bottom line?" asks Thakur. "Once you do those negotiations, and once you see the value that procurement's offering, make sure the value is kept [and] simply not lost by reallocating funds" to different budgets.
Do You Want a More Rewarding Procurement Career?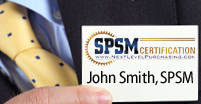 Are you tired of not getting enough opportunities, respect, and money out of your procurement career? Well, guess what? Nothing will change unless you take action towards becoming a world-class procurement professional.
Earning your SPSM® Certification is the action to take if you want to bring the most modern procurement practices into your organization and achieve your career potential. Download the SPSM® Certification Guide today to learn how to get started on your journey to a more rewarding procurement career!
Need Better Performance From Your Procurement Team?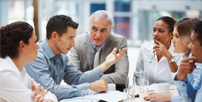 Are you a procurement leader whose team isn't achieving the results you know are possible? Maybe it's not enough cost savings. Or frustrating performance from the supply base. Or dissatisfied internal customers.
You need a performance improvement plan that's easy to implement and quick to produce results. The NLPA can help.
Download our whitepaper "The Procurement Leader's Guide To A More Successful Team." You'll learn the 7 steps for transforming your staff into a results-producing, world-class procurement team.
Are You Getting The Most Out of Your NLPA Membership?
Members of the NLPA get more than just articles like this by email. As a member, you also get access to:
The Procurement Training & Certification Starter Kit
The latest Purchasing & Supply Management Salaries Report
Leading-Edge Supply Management™ magazine
Members-only webinars 10x per year
And more!
If you haven't been taking advantage of these benefits, why not log in and start now?
Copyright 2012. This article is the property of Next Level Purchasing and may not be copied or republished in any form without the express written consent of Next Level Purchasing.
Click here to request republishing permission.
By Charles Dominick, SPSM, SPSM2, SPSM3
Other Editions of PurchTips:
---