How To Create Procurement Reports, Part I
PurchTips edition #302
Are These Items On Your Procurement Reports?
How does a procurement leader know what his or her procurement team is working on? He or she can stand over the shoulder of each and every team member every day. Or, he or she can use a more practical tool: the procurement report.
That's a simple enough concept. But a common question is: what should be on a procurement report?
In this and the next edition of PurchTips, I'll share eight items to consider including on your procurement report. That's not to say that these are the only items to include or that each of the items should definitely be included. You should use these as a starting point and add to and/or delete from this list to suit your procurement department's culture.
OK. Here are the first four items commonly found on procurement reports...
Cost Control Performance. In this section of the report, you should summarize fiscal-year-to-date cost savings, cost savings achieved since the last meeting, cost increases incurred since the last meeting, cost savings opportunities being pursued, and cost increase threats observed.
Sourcing Projects. In this section, you should provide updates of sourcing projects. You may want to consider separating these projects into phases, such as pre-solicitation, awaiting proposals, etc.
Supply Risks. In this section, you should summarize supply risks that you have become aware of. More importantly, you should specify what you are doing to mitigate those risks.
Internal Customer Collaborations. Developing relationships with internal customers in the organization is as important a procurement initiative today as it ever was. In this section, you should share the details of upcoming and recently completed collaborations with internal customers.
Items 5-8 will be covered in the next PurchTips. A procurement report template is available to Premium Members of the NLPA in the NLPA Library.
Do You Want a More Rewarding Procurement Career?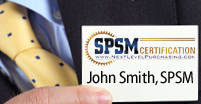 Are you tired of not getting enough opportunities, respect, and money out of your procurement career? Well, guess what? Nothing will change unless you take action towards becoming a world-class procurement professional.
Earning your SPSM® Certification is the action to take if you want to bring the most modern procurement practices into your organization and achieve your career potential. Download the SPSM® Certification Guide today to learn how to get started on your journey to a more rewarding procurement career!
Need Better Performance From Your Procurement Team?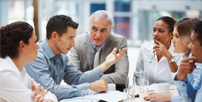 Are you a procurement leader whose team isn't achieving the results you know are possible? Maybe it's not enough cost savings. Or frustrating performance from the supply base. Or dissatisfied internal customers.
You need a performance improvement plan that's easy to implement and quick to produce results. The NLPA can help.
Download our whitepaper "The Procurement Leader's Guide To A More Successful Team." You'll learn the 7 steps for transforming your staff into a results-producing, world-class procurement team.
Are You Getting The Most Out of Your NLPA Membership?
Members of the NLPA get more than just articles like this by email. As a member, you also get access to:
The Procurement Training & Certification Starter Kit
The latest Purchasing & Supply Management Salaries Report
Leading-Edge Supply Management™ magazine
Members-only webinars 10x per year
And more!
If you haven't been taking advantage of these benefits, why not log in and start now?
Copyright 2014. This article is the property of Next Level Purchasing and may not be copied or republished in any form without the express written consent of Next Level Purchasing.
Click here to request republishing permission.
By Charles Dominick, SPSM, SPSM2, SPSM3
Other Editions of PurchTips:
---