The 21st Century Procurement Department
PurchTips edition #80
By Charles Dominick, SPSM, SPSM2, SPSM3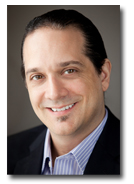 What Is A 21st Century Procurement Department?
A recently certified SPSM had been asked to do a presentation on characteristics of "The 21st Century Procurement Department." He asked me for input on a few key areas and I'll share that input with you...
Structure & Alignment - Modern procurement departments structure themselves to achieve the perfect mix of centralized and decentralized buying. End users - not procurement - place orders for low-dollar items, using contracts set up by a centralized procurement staff. So transactions are decentralized, not decisions.
A centralized procurement staff is concerned not with order placement, but with establishing enterprise-wide contracts, managing relationships with those suppliers, and providing processes for decentralized transactions.
There is no one-size-fits-all way of aligning a procurement department. Some organizations align their procurement staff according to customer. Others align according to commodity. Still others align by supplier. The "best" way depends of the goals of the company.
Qualifications, Knowledge, & Skills - Because of the higher-level responsibilities of modern purchasers, they must have solid fundamental procurement capabilities, analytical skills (particularly in financial analysis), advanced computer expertise, and skills in contracts, project management, relationship building, strategy development, and negotiation.
The manager needs to have all of the skills of his/her employees plus the ability to:
Align the procurement department with the mission and vision of the overall organization
Implement initiatives and best practices that support the mission and vision of the overall organization
Lead people and the procurement function in general
Software & Intangibles - Modern organizations are adopting or "growing into" spend management technology solutions which blend eProcurement, reverse auction, spend analysis, and other capabilities. As far as intangibles, they focus on delivering measurable results aligned with organizational objectives and collaborating with suppliers to achieve a competitive advantage.
In addition, procurement departments are enlarging their role in the supply chain. Once simply just the interface for external "inputs," procurement departments are now also expanding towards the organization's "outputs." This involves managing inventory, taking responsibility for logistics, and, in the future, even being a more significant part of a customer collaboration team.
Do You Want a More Rewarding Procurement Career?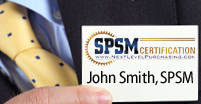 Are you tired of not getting enough opportunities, respect, and money out of your procurement career? Well, guess what? Nothing will change unless you take action towards becoming a world-class procurement professional.
Earning your SPSM® Certification is the action to take if you want to bring the most modern procurement practices into your organization and achieve your career potential. Download the SPSM® Certification Guide today to learn how to get started on your journey to a more rewarding procurement career!
Need Better Performance From Your Procurement Team?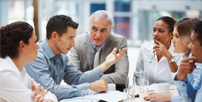 Are you a procurement leader whose team isn't achieving the results you know are possible? Maybe it's not enough cost savings. Or frustrating performance from the supply base. Or dissatisfied internal customers.
You need a performance improvement plan that's easy to implement and quick to produce results. The NLPA can help.
Download our whitepaper "The Procurement Leader's Guide To A More Successful Team." You'll learn the 7 steps for transforming your staff into a results-producing, world-class procurement team.
Are You Getting The Most Out of Your NLPA Membership?
Members of the NLPA get more than just articles like this by email. As a member, you also get access to:
The Procurement Training & Certification Starter Kit
The latest Purchasing & Supply Management Salaries Report
Leading-Edge Supply Management™ magazine
Members-only webinars 10x per year
And more!
If you haven't been taking advantage of these benefits, why not log in and start now?
Copyright 2005. This article is the property of Next Level Purchasing and may not be copied or republished in any form without the express written consent of Next Level Purchasing.
Click here to request republishing permission.