"Outbuying" Your Internal Customers, Part I
PurchTips edition #264
By Charles Dominick, SPSM, SPSM2, SPSM3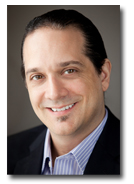 Are You "Outbuying" Your Internal Customers?
One of the main reasons that procurement departments fail to reach their cost savings goals is lack of compliance within the organization. "Compliance" is the degree to which employees of the organization buy from the procurement department's contracted suppliers rather than from competing non-contracted suppliers.

Why do employees - a procurement department's "internal customers" - buy from non-contracted suppliers? Often because they feel they do a better job of buying than the procurement department!

A procurement department that is well-trained and staffed by people who buy goods and services daily should do a better job at procurement than employees who have primary responsibilities other than buying, don't you think? Simply put, procurement departments need to be able to "outbuy" their internal customers.

There are seven activities that represent what "outbuying" means. We will cover three of these activities in this edition of PurchTips and the remaining four in a future edition. Here they are...
Identifying a broader range of qualified suppliers. Too often, internal customers are content to stop at the first supplier they can find to fulfill a need. If convenient, they may identify two, but that still may not be enough. Good procurement departments are adept at finding, and creating competition between, the best suppliers in the market, even if that means sourcing internationally.
Identifying supply risks. There are a lot of things that can cause a supplier to fail to perform adequately, ranging from the supplier going bankrupt to the supplier filling up its capacity and more. Good procurement departments know how to look for "early warning signs" and make supplier selections that pose the least risk to the organization.
Negotiating. Procurement departments negotiate every day. Other departments don't. So, good procurement departments should be able to negotiate all aspects of a deal - including price as well as things like legal terms - much more effectively.
Do You Want a More Rewarding Procurement Career?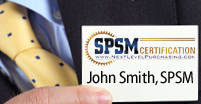 Are you tired of not getting enough opportunities, respect, and money out of your procurement career? Well, guess what? Nothing will change unless you take action towards becoming a world-class procurement professional.
Earning your SPSM® Certification is the action to take if you want to bring the most modern procurement practices into your organization and achieve your career potential. Download the SPSM® Certification Guide today to learn how to get started on your journey to a more rewarding procurement career!
Need Better Performance From Your Procurement Team?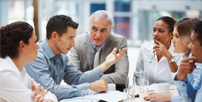 Are you a procurement leader whose team isn't achieving the results you know are possible? Maybe it's not enough cost savings. Or frustrating performance from the supply base. Or dissatisfied internal customers.
You need a performance improvement plan that's easy to implement and quick to produce results. The NLPA can help.
Download our whitepaper "The Procurement Leader's Guide To A More Successful Team." You'll learn the 7 steps for transforming your staff into a results-producing, world-class procurement team.
Are You Getting The Most Out of Your NLPA Membership?
Members of the NLPA get more than just articles like this by email. As a member, you also get access to:
The Procurement Training & Certification Starter Kit
The latest Purchasing & Supply Management Salaries Report
Leading-Edge Supply Management™ magazine
Members-only webinars 10x per year
And more!
If you haven't been taking advantage of these benefits, why not log in and start now?
Copyright 2012. This article is the property of Next Level Purchasing and may not be copied or republished in any form without the express written consent of Next Level Purchasing.
Click here to request republishing permission.