What Your Negotiation Power Depends On
PurchTips edition #122
By Charles Dominick, SPSM, SPSM2, SPSM3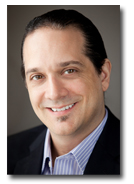 Is Your Negotiation Power Maximized?
In many previous editions of PurchTips, I've shared with you many negotiation tactics that can help you be a more successful negotiator. In this edition, I'll teach you about one ingredient that could improve your ability to execute those tactics and, as a result, give you more negotiation power: confidence.

Power persuades. And confidence translates into power. Can you learn to be confident? Yes. Here are four specific things to do to be more confident in negotiation.

Visualize – Early in your preparations for negotiation, take some time to visualize a successful end result. Picture yourself shaking hands with your supplier and smiling. Imagine the feelings you'll feel when you've secured a great deal for your organization. Most tangible results start with a thought that is later brought to reality. If you can't think it, you will have a harder time achieving it. So visualize and feel the power!

Affirm – Say this out loud to yourself throughout your preparations: "I am a confident negotiator." The last time you are by yourself prior to commencing a negotiation, say it to yourself again. The negotiation power that your supplier will sense about you stems from outward evidence that you believe in yourself. Affirmations strengthen your belief in yourself.

Use Only Positive Statements – Suppliers who are trained in negotiation look for signs of weakness in you through your behavior and the words that you use. So never appear subservient or in doubt. For example, saying "Your brochure said that technical support is included with every purchase, but your proposal said that support is available for an extra charge. So I guess that you can't include support for free, right?" is weak. Don't expect to change a supplier's mind about the deal with words like that. Saying "Your brochure said that technical support is included with every purchase, but your proposal said that support is available for an extra charge. Let's fix that." sends the signal that you are confident and in control and that you have power.

Self-Assess – During a negotiation break, always ask yourself "Was I confident? Did not appearing confident hurt me? What can I do to appear more confident?"
Do You Want a More Rewarding Procurement Career?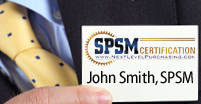 Are you tired of not getting enough opportunities, respect, and money out of your procurement career? Well, guess what? Nothing will change unless you take action towards becoming a world-class procurement professional.
Earning your SPSM® Certification is the action to take if you want to bring the most modern procurement practices into your organization and achieve your career potential. Download the SPSM® Certification Guide today to learn how to get started on your journey to a more rewarding procurement career!
Need Better Performance From Your Procurement Team?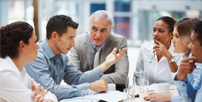 Are you a procurement leader whose team isn't achieving the results you know are possible? Maybe it's not enough cost savings. Or frustrating performance from the supply base. Or dissatisfied internal customers.
You need a performance improvement plan that's easy to implement and quick to produce results. The NLPA can help.
Download our whitepaper "The Procurement Leader's Guide To A More Successful Team." You'll learn the 7 steps for transforming your staff into a results-producing, world-class procurement team.
Are You Getting The Most Out of Your NLPA Membership?
Members of the NLPA get more than just articles like this by email. As a member, you also get access to:
The Procurement Training & Certification Starter Kit
The latest Purchasing & Supply Management Salaries Report
Leading-Edge Supply Management™ magazine
Members-only webinars 10x per year
And more!
If you haven't been taking advantage of these benefits, why not log in and start now?
Copyright 2007. This article is the property of Next Level Purchasing and may not be copied or republished in any form without the express written consent of Next Level Purchasing.
Click here to request republishing permission.