How To Develop Buyers' Leadership Skills
PurchTips edition #244
By Charles Dominick, SPSM, SPSM2, SPSM3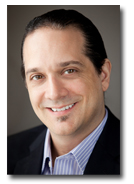 Are You Preparing Your Buyers To Become Leaders?
Unconfident managers consider developing the leadership skills of their subordinates to be a threat to their jobs. Confident leaders know that developing the leadership skills of their subordinates has the opposite effect: it demonstrates the leader's expertise and qualifies the leader for even higher leadership positions. So, how can you develop the leadership skills of your buyers? We suggest four ways:
Give Buyers The Opportunity To Delegate - Great leaders don't spend their day doing hands-on work, they delegate. Unfortunately, most buyer positions are set up to do hands-on work without any subordinates to whom to delegate. If left at that, buyers will never develop delegation skills. However, as a leader, you can create projects, put a certain buyer in charge, and ask other buyers to support the "leading buyer" by doing the work delegated to them.
Encourage Buyers To Have A Vision For Their Jobs - A true leader has a vision and motivates his/her team to make that vision a reality. But many buyer positions aren't set up to allow employees to implement their visions. However, buyers should always think about how their work processes can be improved. Ask buyers to have a vision for what their jobs could be like if they had the authority to improve their work processes. If a vision is consistent with organizational goals, allow the buyer to work towards that vision.
Progressively Increase The Complexity of Decision-Making Situations - Great decision-making is a hallmark of great leadership. While buyers may make decisions within the realm of their job responsibilities, look for opportunities to have them make - or at least provide their input into - more complex decisions that are beyond the realm of their typical responsibilities.
For the fourth way to develop buyers' leadership skills, visit our blog at http://tinyurl.com/7u9xwt5.
Do You Want a More Rewarding Procurement Career?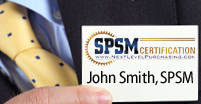 Are you tired of not getting enough opportunities, respect, and money out of your procurement career? Well, guess what? Nothing will change unless you take action towards becoming a world-class procurement professional.
Earning your SPSM® Certification is the action to take if you want to bring the most modern procurement practices into your organization and achieve your career potential. Download the SPSM® Certification Guide today to learn how to get started on your journey to a more rewarding procurement career!
Need Better Performance From Your Procurement Team?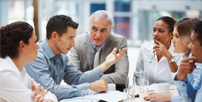 Are you a procurement leader whose team isn't achieving the results you know are possible? Maybe it's not enough cost savings. Or frustrating performance from the supply base. Or dissatisfied internal customers.
You need a performance improvement plan that's easy to implement and quick to produce results. The NLPA can help.
Download our whitepaper "The Procurement Leader's Guide To A More Successful Team." You'll learn the 7 steps for transforming your staff into a results-producing, world-class procurement team.
Are You Getting The Most Out of Your NLPA Membership?
Members of the NLPA get more than just articles like this by email. As a member, you also get access to:
The Procurement Training & Certification Starter Kit
The latest Purchasing & Supply Management Salaries Report
Leading-Edge Supply Management™ magazine
Members-only webinars 10x per year
And more!
If you haven't been taking advantage of these benefits, why not log in and start now?
Copyright 2011. This article is the property of Next Level Purchasing and may not be copied or republished in any form without the express written consent of Next Level Purchasing.
Click here to request republishing permission.