13 Tips For Big Purchasing Meetings, Part III
PurchTips edition #288
By Charles Dominick, SPSM, SPSM2, SPSM3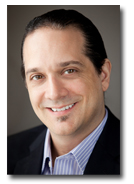 Know How To Conduct A Business Meeting Expertly?
Purchasing professionals who read PurchTips Editions #284 and #286 learned our first nine tips for how to conduct a business meeting "like a boss." Here are the final four of our 13 tips for conducting a great executive business meeting.

Tip #10: Keep your audience from getting distracted. If you give executives multiple pages in a business meeting, it is almost inevitable that they will "skip ahead" and read material that is covered later than what you are covering while speaking. This could lead to them missing important points that you are discussing. If you must give them a large number of pages, don't give all pages to them at once - use a strategy where you hand out portions of the materials as you need them.

Tip #11: Adjust to the executives' pace. Executives can get frustrated by business meetings that plod along rather than those that "get to the point" quickly. If an executive says "yep" after many of your sentences or even finishes your sentences for you, it's an indication that the executive is frustrated with too slow of a pace. Accelerate your presentation and get to the more important points sooner rather than later.

Tip #12: Let executives talk. When executives speak up during a meeting, that is a good thing. It means that they consider what you are talking about to be relevant. Allow them to talk. Never interrupt them. And don't treat their points like an interruption by quickly returning to your canned presentation. Be prepared to be flexible.

Tip #13: Conclude the business meeting with a recommendation or options for executives to decide upon. If you have thoroughly researched a topic but expect an executive to make a high-stakes decision after just a one-hour briefing on the topic, that's a little unfair. You should either make a recommendation that the executive could approve, deny, or want to think about, or you should present the executive with two or three options to choose from. This demonstrates that you have used your expertise to think through the details so that the executive doesn't have to.

Using these tips can enhance the perception of your purchasing department and take your career to new heights.
Do You Want a More Rewarding Procurement Career?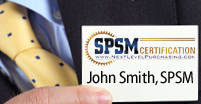 Are you tired of not getting enough opportunities, respect, and money out of your procurement career? Well, guess what? Nothing will change unless you take action towards becoming a world-class procurement professional.
Earning your SPSM® Certification is the action to take if you want to bring the most modern procurement practices into your organization and achieve your career potential. Download the SPSM® Certification Guide today to learn how to get started on your journey to a more rewarding procurement career!
Need Better Performance From Your Procurement Team?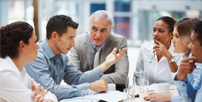 Are you a procurement leader whose team isn't achieving the results you know are possible? Maybe it's not enough cost savings. Or frustrating performance from the supply base. Or dissatisfied internal customers.
You need a performance improvement plan that's easy to implement and quick to produce results. The NLPA can help.
Download our whitepaper "The Procurement Leader's Guide To A More Successful Team." You'll learn the 7 steps for transforming your staff into a results-producing, world-class procurement team.
Are You Getting The Most Out of Your NLPA Membership?
Members of the NLPA get more than just articles like this by email. As a member, you also get access to:
The Procurement Training & Certification Starter Kit
The latest Purchasing & Supply Management Salaries Report
Leading-Edge Supply Management™ magazine
Members-only webinars 10x per year
And more!
If you haven't been taking advantage of these benefits, why not log in and start now?
Copyright 2013. This article is the property of Next Level Purchasing and may not be copied or republished in any form without the express written consent of Next Level Purchasing.
Click here to request republishing permission.