Government Vs. Private Sector Purchasing
PurchTips edition #68
Do You Know What Best Practices Can Cross Over?
If you are a private sector purchaser who ever wondered what it would be like to be a government purchaser - or vice versa - today's resource will be of great interest to you. Next Level Purchasing's president, Charles Dominick, recently had the pleasure of interviewing Tom Youngs, the Chief Procurement Officer for Allegheny County, Pennsylvania. Prior to accepting his role as the head of that government purchasing office, Tom gained valuable experience in the private sector, so he knows both sides very well. This resource will provide excerpts from that interview to give you insight into both roles and how they compare to one another.
CD:
It is easy to assume that your group is responsible for buying things like computers, police uniforms, and forms. What types of products or services are you responsible for that may surprise our readers?
TY:
Along with uniforms, the officers need guns (and) gas masks, so we buy some pretty high-powered items there. For the Coroner's lab, we buy testing things such as monkey brains. And with parks, we actually have buffalos - we've purchased animals. So the Purchasing Agency is sometimes a little difficult. We have a very wide array of items to purchase and it's a little tough to know all of them, but we give it our best effort.
CD:
What do you feel are the biggest differences between government and private sector purchasing?
TY:
The biggest differences I've seen are the openness and the "publicness". Everything we do is open to the scrutiny of the public. When I started here, my salary was in the newspaper. We do most of our purchasing through an Invitation For Bid process, which involves a public bid opening. You can see every bid we've received. We have a public bid tabulation, which we post on our Web site. And the final contract - that's posted on our Web site as well. So everybody knows what we're doing.
An Invitation For Bid does not allow us to negotiate - we, by law, have to award to the lowest responsive, responsible bidder. We can call the supplier for clarification, but cannot call him to ask him to do better.
CD:
What are some of the most common misconceptions about government purchasing?
TY:
I think there's a few. People say: "You award to the low bidder." I can't argue with that because, by law, we have to. But, in order to get there, there's a lot of steps. The apparent low bidder is the one who seems to have the lowest price when you do the initial comparison. But we only award to the lowest responsive, responsible bidder. Yes, we award to the low bidder, but only after a great amount of homework to determine that they are a responsible firm and their bid is responsive.
There's some question as to the professionalism of public purchasing. There are certifications that public purchasers can receive. We encourage our people to get certification and, in fact, everyone in this staff except one has a professional certification.
CD:
You bought in the corporate world before joining a government entity. What traditionally private sector practices did you bring with you to make improvements in your government role?
TY:
Only now is the government coming along with terms like strategic sourcing, which have been thrown around in the private sector for a good number of years now. We started down that road four or five years ago, doing it relatively quietly in terms of supplier reduction. We've gone through a process to reconfigure our bids that we can award on a lump-sum basis versus a per item award. In terms of supplier reduction, we've been able to manage our suppliers better.
And the strategic sourcing process, (we're) going out and looking for more companies rather than just depending on the same old guys who've always bid. Three pieces we hang our hat on: reducing cost, customer service, and professionalism. I think we've taken all three of those from the private sector and been able to apply them here.
CD:
Were there any unique challenges of government purchasing that you just didn't experience in the private sector?
TY:
Yes - the high level of scrutiny with newspaper reporters, separately elected officials, and suppliers feeling free to tell you "I know what Company B bid, you better be awarding to me." Truthfully, it makes our lives a little easier. We post all of our contracts on the Web site. If a company wants to get in the County's door, I'll say "Look at the Web site. See what our contracts are. Can you beat that price or come close? That'll give you a feel if you can get in." There's nothing confidential here. It took time getting used to, but I see the benefits as well.
CD:
What government best practices should a private sector purchaser consider adopting?
TY:
I've had suppliers say: "Once I have an award with government, they are true to me. I don't have to worry about losing business because I didn't play golf on a particular day." That felt good. We stick with our suppliers.
Do You Want a More Rewarding Procurement Career?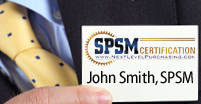 Are you tired of not getting enough opportunities, respect, and money out of your procurement career? Well, guess what? Nothing will change unless you take action towards becoming a world-class procurement professional.
Earning your SPSM® Certification is the action to take if you want to bring the most modern procurement practices into your organization and achieve your career potential. Download the SPSM® Certification Guide today to learn how to get started on your journey to a more rewarding procurement career!
Need Better Performance From Your Procurement Team?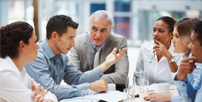 Are you a procurement leader whose team isn't achieving the results you know are possible? Maybe it's not enough cost savings. Or frustrating performance from the supply base. Or dissatisfied internal customers.
You need a performance improvement plan that's easy to implement and quick to produce results. The NLPA can help.
Download our whitepaper "The Procurement Leader's Guide To A More Successful Team." You'll learn the 7 steps for transforming your staff into a results-producing, world-class procurement team.
Are You Getting The Most Out of Your NLPA Membership?
Members of the NLPA get more than just articles like this by email. As a member, you also get access to:
The Procurement Training & Certification Starter Kit
The latest Purchasing & Supply Management Salaries Report
Leading-Edge Supply Management™ magazine
Members-only webinars 10x per year
And more!
If you haven't been taking advantage of these benefits, why not log in and start now?
Copyright 2005. This article is the property of Next Level Purchasing and may not be copied or republished in any form without the express written consent of Next Level Purchasing.
Click here to request republishing permission.
By Charles Dominick, SPSM, SPSM2, SPSM3
Other Editions of PurchTips:
---