eProcurement & Retail Type Items
PurchTips edition #60
By Charles Dominick, SPSM, SPSM2, SPSM3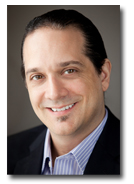 Do You Know This Hidden eProcurement Challenge?
If your organization didn't implement an eProcurement system in the technology bonanza of the late 1990's, don't be surprised if introducing eProcurement to your organization is a goal of yours in the next year.
IT spending is picking up. And eProcurement's value proposition of saving money has stood the test of time.
eProcurement involves many challenging decisions - some apparent, some not.
One example of a non-apparent challenge is choosing the type of supplier of retail-type items for your eProcurement system. Retail-type items are items that can be purchased at a store (e.g., office supplies, computer supplies, etc.). These items can be bought from suppliers with storefronts (Retailers) or suppliers who deal strictly with businesses (B2B Sellers).
When enabling a supplier of retail-type items on your eProcurement system, you may have four choices:
Load a static catalog of a Retailer
Integrate a Retailer's Web site with the eProcurement system
Load a static catalog of a B2B Seller
Integrate a B2B Seller's Web site with the eProcurement system
Less internal friction occurs when option #2 is chosen. Why? Retailers often run sales with attractive discounts to drive in consumer business. Their Web sites have updated prices weekly. No other option makes these special discounts available to you as seamlessly.
If a B2B Seller is enabled on your eProcurement system and a competing Retailer runs a sale, your users may be able to get a better deal individually than your organization gets as a whole. So your users will run to the store instead of using eProcurement. This undermines the buy-in critical to eProcurement success.
Should you only enable Retailers on your eProcurement system for retail-type items? Not necessarily. But require any B2B Sellers to propose a reliable solution to this potential dilemma before enabling them instead.
Do You Want a More Rewarding Procurement Career?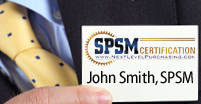 Are you tired of not getting enough opportunities, respect, and money out of your procurement career? Well, guess what? Nothing will change unless you take action towards becoming a world-class procurement professional.
Earning your SPSM® Certification is the action to take if you want to bring the most modern procurement practices into your organization and achieve your career potential. Download the SPSM® Certification Guide today to learn how to get started on your journey to a more rewarding procurement career!
Need Better Performance From Your Procurement Team?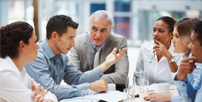 Are you a procurement leader whose team isn't achieving the results you know are possible? Maybe it's not enough cost savings. Or frustrating performance from the supply base. Or dissatisfied internal customers.
You need a performance improvement plan that's easy to implement and quick to produce results. The NLPA can help.
Download our whitepaper "The Procurement Leader's Guide To A More Successful Team." You'll learn the 7 steps for transforming your staff into a results-producing, world-class procurement team.
Are You Getting The Most Out of Your NLPA Membership?
Members of the NLPA get more than just articles like this by email. As a member, you also get access to:
The Procurement Training & Certification Starter Kit
The latest Purchasing & Supply Management Salaries Report
Leading-Edge Supply Management™ magazine
Members-only webinars 10x per year
And more!
If you haven't been taking advantage of these benefits, why not log in and start now?
Copyright 2004. This article is the property of Next Level Purchasing and may not be copied or republished in any form without the express written consent of Next Level Purchasing.
Click here to request republishing permission.