What Salespeople Learn To Say To You
PurchTips edition #71
By Charles Dominick, SPSM, SPSM2, SPSM3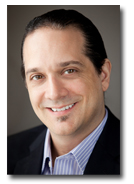 Would You Grant This Salesperson The Appointment?
More and more, your job as a corporate purchaser is to collaborate with suppliers to achieve competitive advantage for your organization. So there is a shift occurring in the purchasing paradigm. Suppliers whose only value proposition is a lower price (usually without concern for the total cost of ownership) are feeling this shift. Big time.
Suppliers, therefore, must change the way they sell to you. Jill Konrath is a widely respected sales trainer who helps salespeople adapt to today's purchasing paradigm. Today's resource features a post from her blog, entitled "We're Happy With Our Present Suppliers." I think you'll find it interesting to see how salespeople are being trained to deal with you. Here is Jill's post, printed in its entirety:
Question: When trying to get into prospective customers, I run into the "we're happy with our current suppliers" and "we're not interested in any new vendors" response. What 5 provocative questions can be asked of a person whose head is in the sand?
Jill's Response:
Let me guess. You probably started your phone conversation with something like this:
"Hi. My name is Jim and I'm with XYZ company. We specialize in high-quality products and other top-notch service. I'd like to get together with you to see how you're currently handling your needs in this area and share with you how we could help you out."
That's the typical phone spiel everyone gives. Guess what? A prospect's typical response is...exactly what you heard! Why?
Change of any sort is a hassle.
You've given them no good reason why changing is worth it.
You sound exactly like every other salesperson who calls.
So they tell you they're happy with their current supplier. When they give you this "blow-off" response, you likely ask:
Who are you currently using?
What do you like/dislike about them?
What would it take to get you to consider other suppliers?
If we could offer you a better price, would you be interested?
None of these questions are effective. They just dig you a deeper hole as the prospect reiterates why she/he doesn't want to change.
So rather than focusing on 5 provocative questions to ask after you've created the obstacle - think about how to eliminate it.
Ask yourself, what problems could they be having with their current supplier? What might they want to accomplish that is difficult right now?
Do some pre-call analysis to determine their goals. Figure out how you might align yourself with their objectives. Determine if you can close any gaps that might exist.
Then call up and say, "I've been studying your business...In my research, I learned that...And I have some ideas I'd like to discuss with you about how we could...(solve a big problem or help them achieve a goal)".
You'll never hear the "We're not interested in new vendors" objection with that approach. They want to learn more.
But it means you have to invest more time upfront in preparation. If you're not willing to do that, forget about getting in. You haven't earned it.
Do You Want a More Rewarding Procurement Career?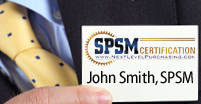 Are you tired of not getting enough opportunities, respect, and money out of your procurement career? Well, guess what? Nothing will change unless you take action towards becoming a world-class procurement professional.
Earning your SPSM® Certification is the action to take if you want to bring the most modern procurement practices into your organization and achieve your career potential. Download the SPSM® Certification Guide today to learn how to get started on your journey to a more rewarding procurement career!
Need Better Performance From Your Procurement Team?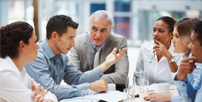 Are you a procurement leader whose team isn't achieving the results you know are possible? Maybe it's not enough cost savings. Or frustrating performance from the supply base. Or dissatisfied internal customers.
You need a performance improvement plan that's easy to implement and quick to produce results. The NLPA can help.
Download our whitepaper "The Procurement Leader's Guide To A More Successful Team." You'll learn the 7 steps for transforming your staff into a results-producing, world-class procurement team.
Are You Getting The Most Out of Your NLPA Membership?
Members of the NLPA get more than just articles like this by email. As a member, you also get access to:
The Procurement Training & Certification Starter Kit
The latest Purchasing & Supply Management Salaries Report
Leading-Edge Supply Management™ magazine
Members-only webinars 10x per year
And more!
If you haven't been taking advantage of these benefits, why not log in and start now?
Copyright 2005. This article is the property of Next Level Purchasing and may not be copied or republished in any form without the express written consent of Next Level Purchasing.
Click here to request republishing permission.